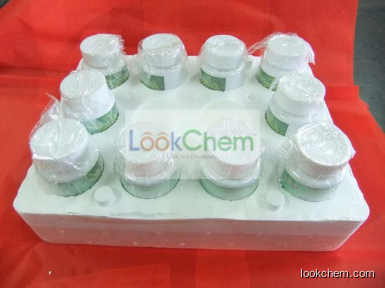 Keywords
7440-55-3
Gallium
99.999%
Quick Details
ProName: Gallium 7440-55-3 Large in stock
CasNo: 7440-55-3
Molecular Formula: Ga
Appearance: light grey solid
Application: reagents
DeliveryTime: in stock
PackAge: drums
Port: Shanghai
ProductionCapacity: 30 Metric Ton/Month
Purity: 99.9999%
Storage: dry and cool
Transportation: air, courier and sea
LimitNum: 1 Kilogram
Grade: Industrial Grade,Electron Grade
Superiority
GALLIUM SINGLE ELEMENT PLASMA STANDARD;GALLIUM SINGLE ELEMENT STANDARD;GALLIUM STANDARD;GALLIUM PELLETS;GALLIUM METAL;GALLIUM PLASMA EMISSION SPECTROSCOPY STANDARD;GALLIUM PLASMA EMISSION STANDARD;GALLIUM, PLASMA STANDARD SOLUTION
Gallium is a chemical element with symbol Ga and atomic number 31. Elemental gallium does not occur in free form in nature, but as the gallium(III) compounds that are in trace amounts in zinc ores and in bauxite. Gallium is a soft silvery metal, and elemental gallium is a brittle solid at low temperatures. If it is held in the human hand long enough, gallium will melt, since it melts at the temperature of about 29.76 °C (85.57 °F) (slightly above room temperature). The melting point of gallium is used as a temperature reference point. The alloy galinstan (68.5% gallium, 21.5% indium, and 10% tin) has an even lower melting point of −19 °C (−2 °F), well below the freezing point of water. Beginning with its discovery in 1875 through the era of semiconductors, gallium was used primarily as an agent to make alloys that melt at low temperatures. Then, gallium became useful in semiconductors, including as a dopant.
Today, nearly all gallium is used in electronics. Gallium arsenide, the primary chemical compound of gallium in electronics, is used in microwave circuits, high-speed switching circuits, and infrared circuits. Gallium nitride and indium gallium nitride, minority semiconductor uses, produce blue and violet light-emitting diodes (LEDs) and diode lasers.
Gallium has no known role in biology. Because gallium(III) and ferric salts behave similarly in biological systems, gallium ions often mimic iron ions in medical applications. Some pharmaceuticals and radiopharmaceuticals containing gallium have been used rarely.

Details

GALLIUM Chemical Properties
mp 29.8 °C(lit.)

bp 2403 °C(lit.)

density 5.904 g/mL at 25 °C(lit.)

storage temp. 0-6°C
Merck 13,4367
Stability: Stable, but moisture sensitive. Incompatible with strong acids, strong bases, halogens, strong oxidizing agents.
CAS DataBase Reference 7440-55-3(CAS DataBase Reference)


Safety Information
Hazard Codes C,Xi,T
Risk Statements 36/38-34-23/24/25
Safety Statements 26-45-36/37/39-36-28-27
RIDADR UN 3264 8/PG 3

WGK Germany 3

RTECS LW8600000

HazardClass 8
PackingGroup III

GALLIUM Usage And Synthesis
Chemical Properties light grey solid
General Description GALLIUM is a silvery-white liquid at room temperature. Ingestion of GALLIUM may be toxic. GALLIUM is corrosive to aluminum. If exposed to high temperatures, GALLIUM may emit toxic fumes which may form a corrosive alkaline solution with water. GALLIUM is soluble in most acids and alkalis. GALLIUM is used as a semiconductor material.
Air & Water Reactions Stable in dry air, in moist air GALLIUM tarnishes
Reactivity Profile Metals, such as GALLIUM METAL, are reducing agents and tend to react with oxidizing agents (i.e. hydrogen peroxide). Their reactivity is strongly influenced by their state of subdivision: in bulk they often resist chemical combination; in powdered form they may react more rapidly. Reacts violently with chlorine and other halogens at ambient temperatures [Bretherick, 5th Ed., 1995].
Health Hazard Inhalation of vapors or contact with substance will result in contamination and potential harmful effects. Fire will produce irritating, corrosive and/or toxic gases.
Fire Hazard Non-combustible, substance itself does not burn but may react upon heating to produce corrosive and/or toxic fumes. Runoff may pollute waterways.


GALLIUM Preparation Products And Raw materials
Raw materials Gold trichloride